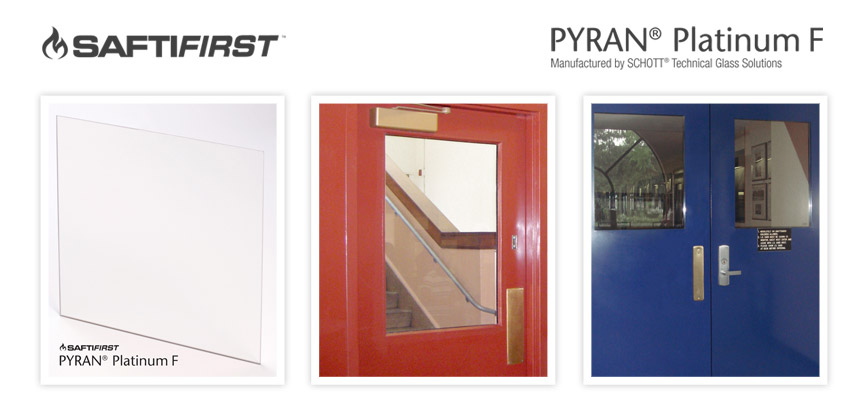 Fire Rated Ceramic Glass
Glaz-Tech Industries introduces a new ceramic fire rated glass product specifically made for architectural applications. Unlike other fire rated safety glass, Pyran® Platinum F offers several flexible features when compared to other products of its kind. Pyran® Platinum F is a fire-protection rated and impact safety-rated glazing material made from a transparent glass-ceramic with a thickness of 3/16" (5mm). It has a surface applied safety film and is intended for use in safety rated locations such as door lites, transoms or sidelites, and windows with fire-rating requirements up to 90 minutes (up to 180 minutes in doors).
Fire Rated Features
The first fire rated glass ceramic made specifically for architectural applications.
Neutral coloration designed to more closely match float glass.
Advanced manufacturing process eliminates the added cost of surface polishing.
Environmentally friendly glass ceramic manufactured free of toxins and hazardous heavy metals.
Heavy duty surface applied safety film meets the highest human impact safety requirements.
Glaz-Tech Industries is a certified distributor through SaftiFirst's factory direct Quick-Ship program.
Insulated, obscured and other custom make-ups available.
10 Year Warranty.
Specifications
Thickness : 3/16" 5mm
Weight : 2.5 lbs /sq ft
Appearance : Free of amber tint.
Fire Rating : 20 - 180 minutes with hose stream.
Impact Safety Rating : CPSC 16 CFR 1201 Cat. I and II.
3-Part Specifications available at safti.com
Fire Rating
Application
Max Area
Max Width
Max Height
Stops
20-90
Min*
Sidelites, Windows Transoms
3,323 Sq. In.
77 3/4"
77 3/4"
5/8"
20-90
Min.*
Doors (Non-Temp. Rise)
2,799 Sq. In.
36"
77 3/4"
5/8"
Up to
180 Min.
Doors (Temp. Rise)
100 Sq. In.
10"
33"
5/8"
UL and Intertek / WHI Tested & Certified
PYRAN® Platinum F by SAFTIFIRST is listed and labeled by Intertek/ Warnock-Hersey Inc. and Underwriters Laboratories, nationally recognized testing laboratories approved by OSHA. All ceramic products do not meet ASTM E119 or NFPA 251 and should not be used in such applications.